This Month's Featured Article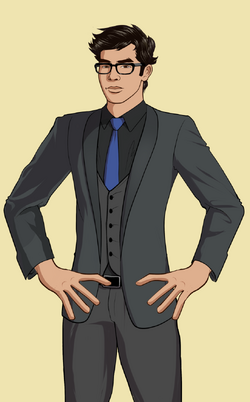 Theo Matapang is a successful and wealthy video game developer. Theo creates a Brofinder profile to hire someone who can fit his ex-boyfriend's suit and attend his 10th high school reunion with him.
Theo is lithe young adult of medium height and light brown skin. He wears a thick rimmed glasses and a dark grey layered suit with a blue tie. Read more about Theo-->
Coming Out On Top was released December 10th and is currently on version 1.5.0.
The current price is $18.99 USD and can be found at http://obscurasoft.com/. When using a credit card, it shows up as a BMTMicro purchase, so nobody will really know you purchased an adult game.

Current Poll
Which character are you most like?
Pool is open until September, previous poll results here.
This month's Top 10 analyses and ranks the bonus dates of Coming Out on Top. Check. It. Out.
thedevilchicken is a fan fiction writer on the website Archive of Our Own. The chicken has written over 220 stories and routinely accept "asks".
thedevilchicken is notable to the Coming Out On Fandom for haven written the ONLY Coming Out On Top fan fiction on AO3 since the game's release. You can read said fic here.