This Month's Featured Article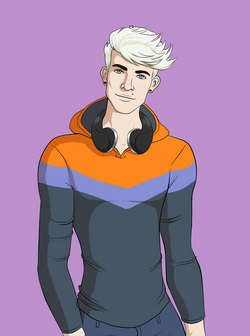 Terrence, most know by his stage name Terry Lovelock, is a popstar. Terry had a humble upbringing, being raised by his single mother alone.
He's very passionate about music and confident of his singing skills. His early musical output, described by himself as "dark" and "weird" didn't bring him commercial success.
Terry leads a very tightly managed life. He has to keep up a happy, approachable and straight persona when in public. He is on a fake relationship with fellow musician Dalia Murphy, concocted by their managers to help further their careers. He is deeply unhappy with the "teenybopper" music he currently puts out as it's carefully crafted by producers to generate easy hits. Read more about Terrence-->
Coming Out On Top was released December 10th and is currently on version 1.5.0.
The current price is $18.99 USD and can be found at http://obscurasoft.com/. When using a credit card, it shows up as a BMTMicro purchase, so nobody will really know you purchased an adult game.

Current Poll
Which bonus character would you like to have a full route?
Pool is open until June, previous poll results here.
This month's Top 10 analyses and ranks the bonus dates of Coming Out on Top. Check. It. Out.
thedevilchicken is a fan fiction writer on the website Archive of Our Own. The chicken has written over 220 stories and routinely accept "asks".
thedevilchicken is notable to the Coming Out On Fandom for haven written the ONLY Coming Out On Top fan fiction on AO3 since the game's release. You can read said fic here.
Ad blocker interference detected!
Wikia is a free-to-use site that makes money from advertising. We have a modified experience for viewers using ad blockers

Wikia is not accessible if you've made further modifications. Remove the custom ad blocker rule(s) and the page will load as expected.